Palermo: a human smart city...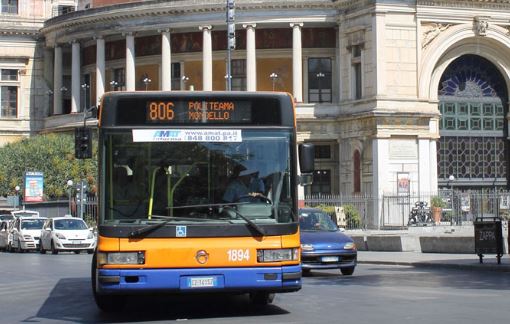 On a beautiful day in January 08, I decided that a lunch in Mondello would be grand. I checked out which bus number I had to take from Politeama, and waited.
Then, I saw that number coming from Mondello, and I asked the driver whether I could jump in already, to which he said 'yes'. Probably my very bad Italian (I'm taking lessons now) and his very bad English resulted in some miscommunication, because he wasn't going to Mondello again, he was going for his lunch... We found this out a minute later at the bus stop behind Politeama, when just when we arrived, the bus to Mondello left...
And then the great hospitality of the Palermitans as I experienced it showed! He immediately told the supervisor. Then both of them decided that they would be having their lunch a bit later anyway, and that my lunch was important as well. So the driver got back on the bus, and drove me (only I was in the bus), through the back streets, to a point where he would be sure he would have passed the bus to Mondello, so I could jump on again! This was a crazy drive at high speed through the small streets, but with success!
This all passed on with a laugh and mutual understanding of the importance of a good and relaxed lunch.
So when anybody ever would ask me about public transport in Palermo, I would score them maximum points! Lunch was great by the way: pasta con ricci and a great grilled dorade, accompanied by a nice bottle of grillo.
Later on a nice cup of cafè at the beach, and when the sun downed the only thing lightened was the distant Etna...
by Willem (Holland) January 08
Read more