Sicilian G.astronomy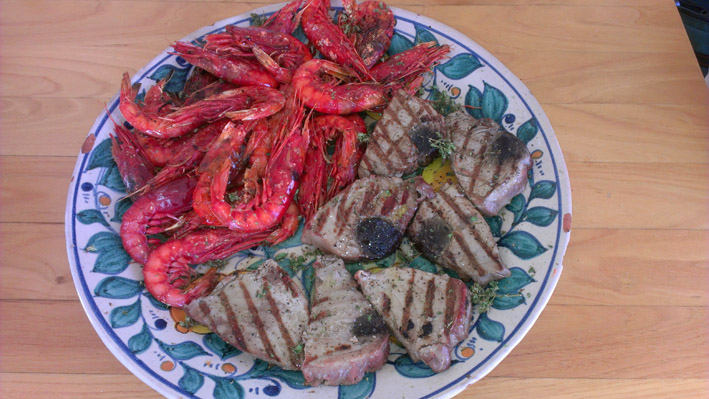 Cooking in Sicily: Gastronomy or Astronomy?
Effectively, one cannot speak of gastronomy, the art of regulating the stomach, when making reference to Sicily.
We are in ecstatic contemplation of the heavens, three star Michelin perhaps and of other glittering stars, which leads us to believe it is more correct to talk about Sicilian astronomy, putting aside the G spot or the G. for an art capable of bringing into being the most emotional dishes that mankind has ever produced, consumed and digested.
The history of Sicilian gastronomy is a fairytale which has its beginning with the classic "Once upon a time".
Once upon a time there were the Greeks, whom, around about 734 BC, disembarked onto Sicilian ionic shores bringing with them olive trees, spelt and the art of making wine. Their knowledge and these ingredients soon mixed in with the local cooking, developed by the ancient inhabitants of the Island: Siculi, Sicani and Elimi. Spelt began to be used not only in bread but also in course noodles in order to maintain flavour and for an invention not to be undermined: Short pastry.
In the IV century BC, Archestrato di Gela in his "Fragments of gastronomy" claims to have visited every land and sea, but to have found 'good taste' in Sicily. The secret of Sicily's cooking success from the IV century BC until today still remains the same: natural cooking, pure and authentic without sophistication and which only avails of oil, salt and if necessary vinegar and aromatic herbs.
That which has changed over the centuries is the variety of ingredients and the stratification of the culture of foodstuffs. After the Greeks, in fact, it would be the Arabs turn, when in the year 827 they were to disembark at Marsala, introducing us to the variable epicentre of Sicilian cooking: sugar cane, rice, jasmine, cotton, aniseed, sesame and the drugs: cinnamon and saffron.
The so-called Muslims of Africa were agile pastry makers and were to hand on the skill of making many sweets such as those which are still world famous today: cassata and sorbets.
To the Arabian pastry maker we owe: Cubbaita (Qubbayt) an extremely sweet nougat made from honey, sesame seeds and almonds; Nucatuli, from the Arab Word "Nagal" (dried fruit, confectionary, sweet dry); the Cupita or Copata: very hard nougat confectioned in large cloths with a base of hazelnuts, egg whites, sugar, honey and starch. Lovers of essence, the Arabs created sweets perfumed with fruit, cinnamon and even with floral odours such as jasmine which is still used today to flavour ice-cream in Trapani known by its Arabic Name "Scursunera".
They would go on to invent jellies made from melon, must, cinnamon, jasmine and retorts and stills for distilling grappa liquor which out of respect for the Koran, they would only use to disinfect wounds and that we changed into rosoli.
To these tasteful 'invaders' we owe other typical Sicilian dishes such as Panelle, dried chickpeas and dried salted pumpkin flowers not to mention 'pane con la milza' – bread with cow spleen, of which today Palermitans still have a weakness for.
You are also partially responsible for Sicily's culinary destiny, that's to say the Arabs were to be defeated by the Normans of Roger II of Altavilla in the battle of Cerami in 1063. A Scandinavian population of good tempered sailors and warriors, besides the construction of magnificent cathedrals they were to bring: rotating spits, smoked herring and dried cod (Piscistaccu and Baccalà). Fredrick II's love for hunting and game gave birth to delicatessen specialties in Sicily. At this stage the paradigm of Sicilian gastronomy was well written, it lacked only that touch of class which couldn't come but from France, thanks to the reputation of 'il Falsumagru', who was first known as Rollò, from the French, Roullè, who filled the common people up with omelettes and vegetables and the nobles with fine selected meats.
The only thing missing was a touch of the Spaniards flowering baroque style, which however, was eventually to arrive. Thanks to this culture we recognise the evolution of the Arabian Cassata from the moment in which the new dominators brought in an important base ingredient: Sponge cake; and once more we must thank our Iberian cousins for introducing sweet and sour pumpkin and other various "mpanate".
Undoubtedly, considering the dishes that are cooked and eaten nowadays, it is our duty to talk about Sicilian gastronomy, but not from the point of view of the historical evolution of our dishes, it would be more correct to talk of the history of wars and dominations as it is well-known - in cooking and in war, all is permitted!
Video recipe
Stuffed Calamari alla Siciliana
Video recipe
Involtini alla Siciliana
Read more
---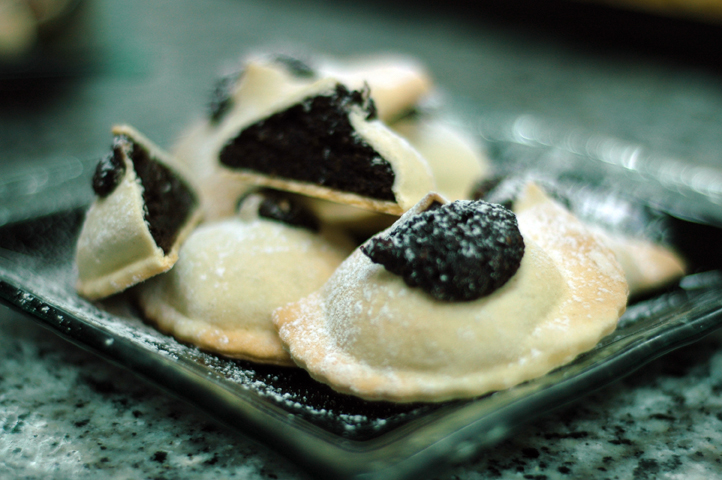 The Eastern Sicily various cultural influences are clearly evident in the vast variety and quality of the agriculture and produce, and in an incredibly rich local cuisine »