movies, drama and books on Sicily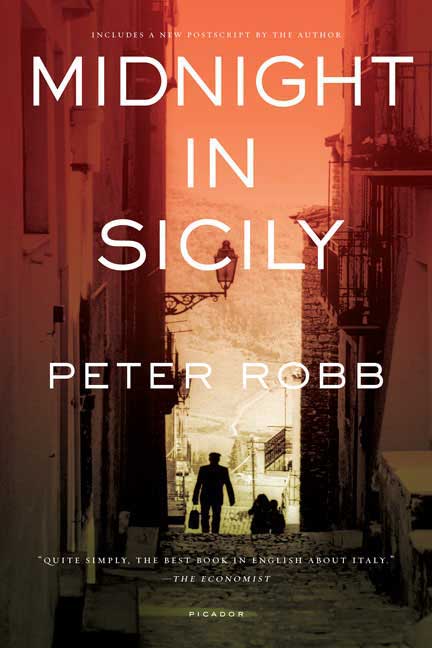 Books (a shortlist):
Peter Robb, Midnight in Sicily, On Art, Feed, History, Travel and la Cosa Nostra [One of our favourite books about Sicily!]
Mary Taylor Simeti, On Persephone's Island: A Sicilian Journal
Roberto Alajmo, Palermo (Armchair Traveller)
Peter T. Schneider - Jane Schneider Reversible Destiny: Mafia, Antimafia, and the Struggle for Palermo

Some Films set in Sicily
Palermo: "Palermo shooting" (2008) by Wim Venders
Cinisi (Pa): "I cento passi" (2000) by Marco Tullio Giordana

Stromboli - Eolie (Me): "Stromboli Terra di Dio" (1949) by Roberto Rossellini

Marzamemi (Sr): Sud (1993) by Gabriele Salvatores

Ciminna (Pa): "Il gattopardo" (1963) by Luchino Visconti

Palazzo Adriano (Pa): "Nuovo Cinema Paradiso" (1988) by Giuseppe Tornatore

Linosa: "Terraferma" (2011) by Emanuele Crialese
Theatre
If anyone has talked to you about Sicily, they have told you that there is a water shortage, that family is the most important thing, that women are victims of their fathers, brothers and their husbands and that the Mafia does not exist even though it is everywhere. They have told you the truth, but they have not told it quite as she does, Emma Dante, a thespian who from a workshop in one of Palermo's former prisons has given life back to Italian theatre.
Emma Dante sets out to recount her own city, Palermo and its surroundings by liberating the drama from its congenital folklore. Sicily's immobility and in particular Palermo's, is the main point of action in M'Palermu. This show is a declaration of poetry that has gained her national fame around which her company 'SudCostaOccidentale' was to be formed. To follow there would be the violent 'Carnezzeria' , the ongoing death of 'Vita Mia' and the Mafioso revolution of 'Cani di Bancata', which would go on to tour Europe and the world, spreading the idea that telling the truth is really about revealing the act of faking.
Emma Dante's belief is that theatre is a game, a disguise, a time to focus on reality. Theatre is mostly composed of bodies that move in scene, giving into the need to gesticulate. "Any one of your mistakes is worth more than any justice", says the director to her actors, to teach them that the body often knows instinctively that which the mind wants. Her stage rules are wisely befitting for daily living: "Listen and denounce your own needs in order to connect yourself to the needs of others", "Do the right thing at the wrong time or the wrong thing at the right time. Be creative."
Seeing one of Emma Dante's shows is highly recommended for those who want to discover the insides of Sicily and consequently to those who have a strong enough stomach for the voyage!
Now she's got a new space (http://www.emmadante.it/lavicaria.html)!!!
We suggest:
PALERMO DENTRO, Il teatro di Emma Dante, di Andrea Porcheddu ed. ZONA 2005 - pp. 198, Collana PEDANE MOBILI, EURO 19
Read more