Why and How to book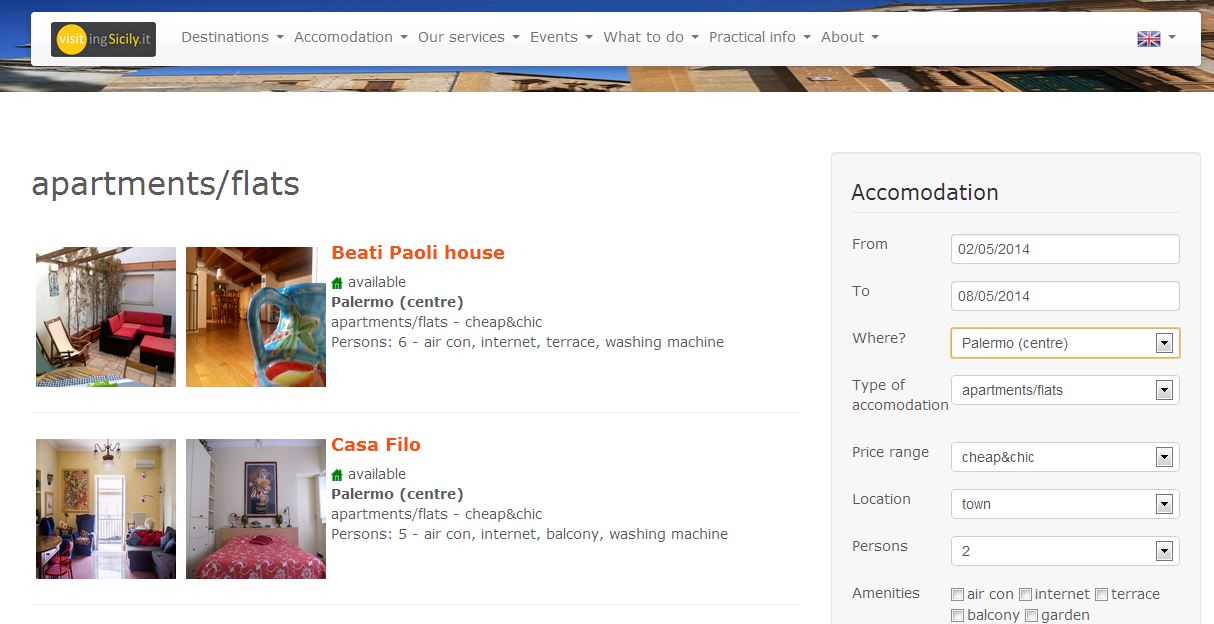 Visitingsicily.it is not a typical holiday rentals web portal. If you are looking for an agency with people on the ground, then you found it. We inspect properties and explore the terrain for you.
Some good reason to choose us:
To get good accommodation in Sicily can be hard. We try to help you choosing for you the best options in terms of quality and price.
we personally visit every apartment or villa before publishing it on our website (if we do not like a place we do not put it on visitingsicily.it)
photos and descriptions are always saying the truth and if you have something to ask we can provide more details
you sign the rental contract on arrival so you can check the house before signing it.
you can count on us before and during your staying. On your voucher you will find at least 3 phone numbers so that you can reach the owners and us whenever you want to ask for help, hints, suggestion and so on.
We give tailored advice and can help you select your perfect villa, apartment or bed&breakfast in Sicily
Mid-week arrivals are possible all-year-round
you can ask for a lot of information about your holiday in Sicily and you will get this service for free. We will do our best to help you visiting Sicily. You might find hard to find a ticket or to hire a cab, in these case it will be our pleasure to make a phone call for you.
We suggest an alternative accommodation - within the same budget - if the one you want to book is not available
We offer not only accommodation but also a list of nice tours and things to do in Palermo and Sicily.
Last but not least: We always find time for a coffee or a glass of wine with our guests...
How To book an apartment/villa/b&b/hotel in Sicily with us
If you are interested in one of our offers, you can contact us by e-mail/phone/skype or twitter telling us which house you would like to book. If you want, you can ask for more details and additional information about the house, the neighborhood and so on. So, please just ask whatever you need to know before booking. It will be a pleasure to help you to make the best choice and to enjoy your staying in Sicily.
Just contact us telling us which house you are asking information for and we will be glad to reply within few hours and confirm the availability of the place you have chosen. If the property is already booked we will suggest to you some other equivalent option.
The prices published on the website are always all inclusive and no extra charges, unless you require additional services. Prices on our website include: bed sheets, towels, utilities and final cleaning, in any case. Where available, you also get tv-sat and internet included.
We offer reductions if you stay more than two weeks. So the more you stay at our places the more convenient your holiday will be.
Read more