Cefalù: the place to be!
Being an intern in Palermo has its benefits. One of these benefits is being able to discover all the beautiful places during your spare time. Destination of the week: Cefalù!
How to get there?
Together with Lucille, another intern at VisitPalermo, I left at 9.22 a.m. in the central station of Palermo. Before leaving, of course, something had to go wrong… Since it was the first time we took a train in Sicily we didn't know about the ticket validation concept. The controllers explained to us that before getting on a train, you need to validate your ticket in the yellow boxes. We ran for our lives and made it in the nick back into the train. Fine avoided!
During the trip, you can easily fall asleep or just enjoy the beautiful views. Heavenly blue water, picturesque cottages and small villages alternate and it is almost like you are living in a dream. Some villages we passed during the trip were Termini Imerese and CampoFelice. Once arrived in the train station of Cefalù, the sun was shining bright and our journey had begun!
Amunì, let's go!
Although we didn't have any maps of the city, we started the trip on intuition. Like real tourists we were hanging out in the streets and visited some authentic shops. As in Palermo, there are a lot of artisanal shops in Cefalù as well. Tough they are not connected through a bigger organisation, like ALAB.
Once we arrived at the cathedral, which belongs to the UNESCO World Heritage, we were really impressed by its grandeur. We saw several German tourist groups and they as well were very impressed.
As it was quite busy at the cathedral site, we kept moving towards the sea side. After checking some menu cards for our dinner this evening, we arrived at a beautiful open spot where some stairs led us to the water. There was no beach, only rocks. "Mais c'est quoi ça?". Lucille was totally astonished, because her tourist guide showed an extended version of the beach of Cefalù. We followed the path, or should I say the rocks, and after half an hour we finally reached the city again. We definitely recommend to follow this trail, as long as you are flexible and not afraid of getting wet sometimes!
Once escaped out of the rockeries, we went to the Mandralisca museum (Via Mandralisca). There we payed €6 at the entrance, which was in hindsight maybe not worth it. The museum could have been much more interesting if there would have been information panels or other information signs. There were some qr-codes visitors could scan as well, but therefore internet was needed. Unfortunately there was no Wi-Fi in the building to download or start the app.
At the time we were ending our visit, we were really starving. We started our quest to find the best pizza in town, so we could eat it afterwards on the beach. Easier said than done! Due to the fact that March still belongs to the low season, not many restaurants were open. It was quite difficult to find a place that sells pizzas during lunch time! Thank god, we found a cool and trendy place, next to the sea side, called La Botega Tivitti. We ordered our pizzas and noticed that they had some Belgian beers as well, AWESOME! We took our pizzas back to the beach where we enjoyed their lovely flavors and afterwards we fell asleep… or at least I did.
At 3 p.m. we continued our journey and went back to the cathedral. But first, I had to change my shorts somewhere! Lucille and I hid behind some cars and after 2 sneaky minutes, a totally new me appeared. We went to the piazza in front of the cathedral and started our photoshoot. The exterior was so beautiful and this time, we were the only ones there!
Once we entered the cathedral, we were totally impressed by the beautiful stained glass windows. They didn't represent religious persons or actions, but seemed more like art works made of vibrant colors. The cathedral itself was very simplistic in comparison with the cathedrals from Palermo or Monreale.
After our visit to the cathedral, we decided to discover La Rocca. The entrance to this 'small hill' is free, or at least it is in the low season. Full of courage, we entered the path and soon we discovered that it was not just a regular hill. First, we visited the Temple of Diana, of which the ruins were really beautiful. Further, we visited the some other ruins at some lookouts and finally, after some huffing and puffing, we arrived at the castle. The view was really beautiful thanks to its high location and the vestiges were amazing. Thereafter we went back down (trying not to fall) and when we saw the entrance again, it was already dark. In total we spent 3 hours in La Rocca, but if you are not such a photoshoot freak as we are, then you can probably do the tour in less than 2.5 hours!
Where to find food and how to eat it
Totally exhausted we started a new quest: where to find some delicious food? First we wanted to go to a restaurant with a sea view, but due to the low season, most (all!) of them were closed for restauration works. We decided to overlook our options while sitting on a bench near the sea. The view was so beautiful and the atmosphere was so nice, that we almost forgot that we were starving.
We decided to go to a restaurant near the train station, so we wouldn't have any problems after. The risotto from Helios, a restaurant/gelatteria, convinced us and in combination with a (or 3) glass of wine, we enjoyed the rest of our evening. We were reflecting on our day and decided to take a homemade ice cream before we went back to the station.
The moment we wanted to pay, a problem with my credit card occurred. I was sure I had enough money on it, so I insisted to let them try it again. After trying 3 times, the card worked, but you couldn't miss the irritation on their faces. In Sicily, people prefer you to pay with cash and as I noticed tonight, they would do anything for it. While walking to the train station, we saw that our dishes were priced 1€ more than originally on the menu. Maybe we should check our bill a little bit earlier next time!
All good things come to an end
As tired as the wings of a bird, we strolled to the train station and several minutes later we were sitting on some very uncomfortable seats in the train. The train didn't leave on time, due to a man who didn't pay his ticket. The controllers threatened him to call the police if he didn't pay. Eventually he paid his ticket plus a fine. The train left and in the middle of the night we arrived in Palermo. After walking 35 minutes back to our apartment, we fell asleep like a baby and dreamt about our adventures in Cefalù.
AmbiiV & Lucille, voyageuse en herbe
Read more
---
How to start a perfect joke? Well, let's take a French and Belgian girl and a Swedish boy. Put them on a bus going to Sferracavallo, without internet and let them start their adventure! »
Mondello is a beautiful seaside town, full of nice restaurants and bars and of course a magnificent, sandy beach. »
---
Discover our adventures in Agrigento, a beautiful city in the south-west of Sicily that has stolen our hearts! »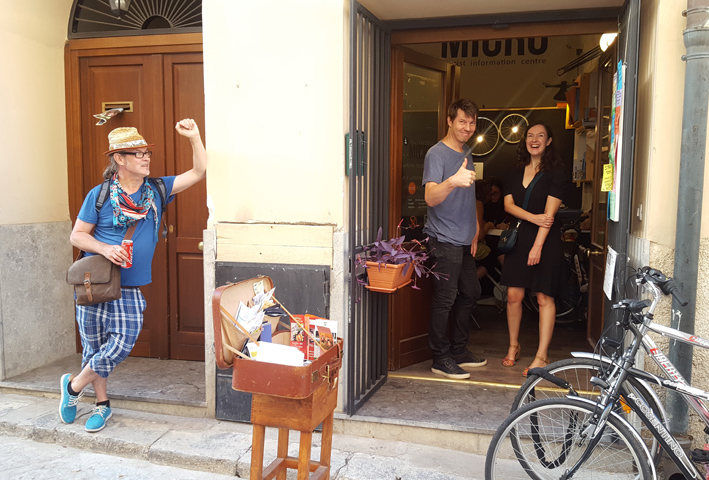 A cosy and welcoming tourist information centre in the historical centre of Palermo, Via Alloro 19, near Palazzo Abatellis and Piazza Marina »