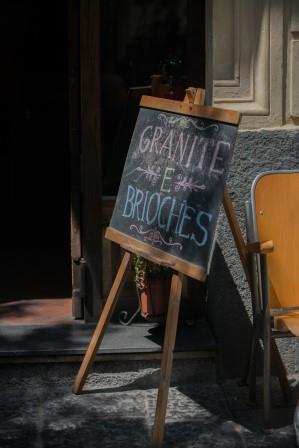 Inside Catania's Wine Bar Razmataz there is that discrete literary café feel where writers such as Hemingway or Fitzgerald may have whiled away a few evening hours inside the dark timber panelled rooms. Tucked away, in tiny Via Montesano, on Largo Salvatore Colosi just off Catania's main thoroughfare, Via Etnea, under a canopy of sub- tropical Moreton Bay fig trees and large canvas umbrellas, Razmataz, an oasis in this fabulous baroque lava town, buzzes on a warm summer's day.

Sicilians and tourists pull up chairs and young local waiters, dressed in blue t-shirts and jeans move leisurely between the tables taking lunch orders of "pasta zucchini bianche fritte e ricotta salata" "cicoria salata" "cous cous Eoliana" and "insalata di cavallo affumiato" – the daily menu, written on the outside blackboard, lists simple fresh Sicilian dishes and, trays of fresh local produce are soon brought to the tables. Tall glasses of some of Sicily's best reds and whites are slowly enjoyed.
A couple of men, dressed in crushed linen suits and slides, smoke as they wait for an inside table, they sit on the bench near the entry doors, decorated with the sensuous curves of Liberty style aesthetic and chat in Sicilian. Inside, the two small rooms of dark wooden tables are full and the bar behind the counter is lined with gleaming glassware, Sicilian wines and liquors.
After plates of delicious pasta and insalata di cavallo are finished waiters carry trays of desserts: brioches filled with gelato and granita- pistacchio from Bronte and lemon from Etna's dark fertile slopes and glasses full of "gelo di fragole" – the strawberry jelly is fragrant and the lemon granita refreshing.
Written by Suzanne Turrisi
---